Cheryl Miller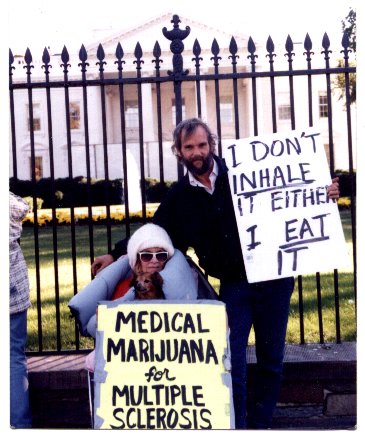 1997: Cheryl and Jim (and their beloved late dog Floyd, peering over the sign) at the White House on Cheryl's first Washington D.C. visit.

October 1999: Jacki and Cheryl with then
Congressman Asa Hutchinson


October 1999: Cheryl with former Congressman Bob Barr


April 2000: Jim and Cheryl at the NJ Statehouse in Trenton, before driving off in an automobile caravan to see ex-Gov. Christie Whitman at the governor's residence in Princeton, NJ 10 miles away.

October 2000: Jim gives Cheryl a medicinal chocolate outside Al Gore's office in New Brunswick, New Jersey, as Dr. Steve Fenichel, Elvy Musikka, Diane Fornbacher and others look on.

April 2001: Diane with Jim and Cheryl at the 2001 NORML Conference in Washington D.C.
After the conference, Cheryl and Jim spent three days lobbying on Capitol Hill.

July 2002: Jim and Cheryl with Gary Storck and Keith Stroup at the U.S. Capitol for Congressman Barney Frank's press conference supporting HR 2592, where Cheryl met Lyn Nofziger,
Reps. Ron Paul, Dana Rohrabacher, Jan Schakowsky and others. As it turned out, this was Cheryl's last trip to Washington.

Photo from the last article about Cheryl including her last interview; ("I won't give up my fight for marijuana," she says, her words barely audible.). US NJ: Medical Marijuana Law Sought.


Tuesday June 3 2003: Jim and Cheryl in Cheryl's last photo. The end came 4 days later.

---

2002 was a very productive year for Cheryl, she starred in 3 videos!